A Hilarious Message Sent by the Undertaker to Braun Strowman's Father
2 min read
On Braun Strowman's latest post that was addressed to his dad, the WWE legendary superstar, the Undertaker left an unusual comment. There used to be days when the Deadman used to stick to his iconic character and never took a chance to do something different. However, things have changed over the years and he has started to enjoy his life outside the ring and occasionally entertains his fans by posting on social media.
On account of his father's birthday, Braun Strowman shared a post on his official account wishing him a happy birthday. Wishes flowed across the wrestling world in the comments section. However, one comment stood out as unique from the rest. The four-time WWE winner sent a notorious wish to Strowman's dad.
"Happy birthday Mr. Scherr I bet I know what you're getting for your birthday!! Oh yeah!!" The Undertaker said.
Not the First Time the Undertaker has Made a Funny Comment on Braun Strowman's Post
The Undertaker is quite familiar with the social media platform. He is active on Instagram and posts pictures of his family or promotes his shows as well. At times, this wrestling veteran chimes with his opponents' posts by commenting on them.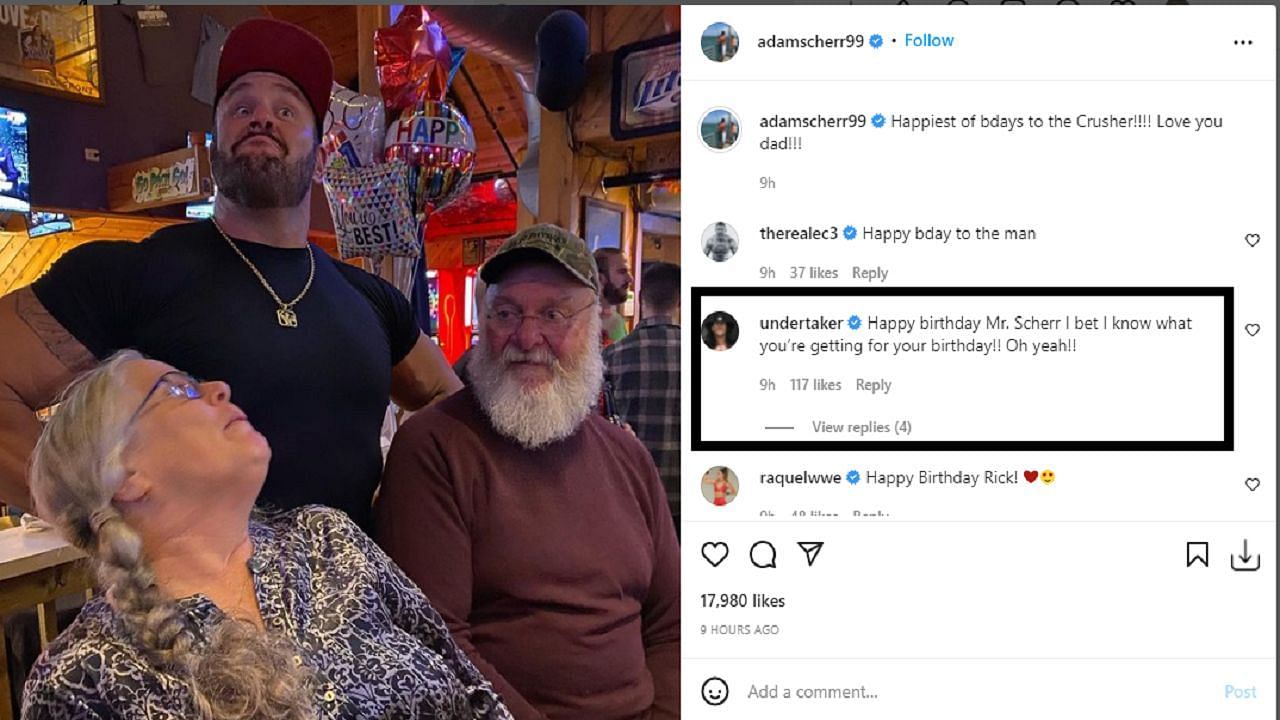 Earlier in 2019, Braun Strowman had shared a picture of his grandparents on social media. Taker couldn't resist commenting a funny one on it. A month later, Strowman made a new hairdo posted the picture, and asked his fans for their opinion. The Undertaker again went ahead commenting on the picture trolling Strowman and asked if he really wants his thoughts about the hairstyle.
WWE fans have huge respect for Braun Strowman. After a WWE LIVE event match, this former Universal Champ expressed his gratitude for Taker and explained Taker's heartfelt message to him and Roman Reign.
"One of the big behind-the-scenes stories with me and Taker was him, Roman Reigns and myself were in the main event of a live event at Madison Square Garden. It was unbelievable being out there with The Deadman in the most famous arena in the world. We get done with the match and he is talking with me and Roman. He goes, 'It's yours now boys. Enjoy it.' Just hear those words and having him look me in the eye and shake my hand is, words can't describe it," said Strowman.
It was an unexpected moment to see the Deadman break from the usual stereotype and exhibit his funny side. However, few fans might feel weird to see their favorite turning out to be hilarious.