5 instances where Rahul Dravid proved superior to Sachin Tendulkar 
5 min read
3. More Centuries in England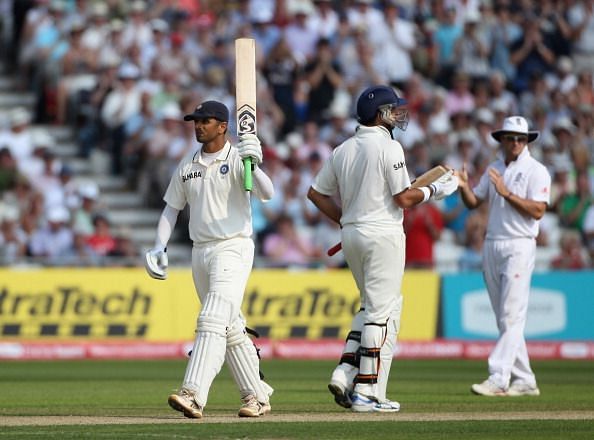 For batters from other countries, England is possibly the toughest place to visit. When Australia's team was dominating world cricket, they were more fearsome, but that was owing to their superior bowling assault. Aside from that, Australia would be a good place to bat.
England, on the other hand, presents a far tougher test because of its swing and seam-friendly conditions. Despite these challenges, both Sachin and Dravid were successful in England. In England, the 'Little Master' achieved his first Test century and went on to score three more, as well as many half-centuries.
'The Wall', on the other hand, is ahead of Tendulkar in terms of centuries struck in England, although having played fewer matches. In England, Tendulkar scored four hundred in 17 games, while his legendary partner has six hundred in just 13 games.
This demonstrates Dravid's outstanding skill as well as his endurance. In the 2002 series, he led the way by scoring hundreds in three straight Tests. He repeated the feat of scoring three tonnes in a series nine years later in England when he was the lone fighter in India's humiliating 0-4 whitewash.
Dravid remarked in an interview with the BBC that he enjoys playing in England because he feels at ease there. As a result, while Tendulkar has a much better record in Australia, where Dravid has struggled at times, the latter is the master in England.